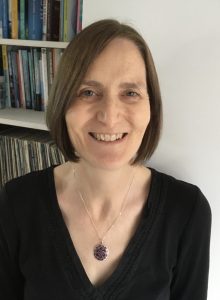 I was born in Broxburn in Scotland. My parents were originally from Yorkshire and had gone up to Scotland for my Dad's work. We moved down south when I was seven and I grew up in the High Wycombe area. My parents were both from working class families and conveyed a strong message that you have to work hard to have anything in life. I got good at working hard and this helped me do well academically. 
When I was 16, my mum became ill with cancer and died less than a year later. My Dad struggled and family life was chaotic. University was a welcome relief. I studied human biology in London and met some brilliant friends from philosophy, literature and religious studies backgrounds as well as fellow science students. We spent hours talking about the meaning of life and soaking up the experience of being a student in London. It was at this time that I first got interested in Buddhism through reading a book by Christopher Titmus. 
Following on from my mum's death and those early existential explorations with friends at University, there's been a thread of interest in how to live a meaningful life with less struggle. I trained as a clinical psychologist and worked in secondary care NHS mental health services for many years including in a leadership role. While I appreciated the many helpful aspects of clinical psychology and saw its power for change in people's lives, I also experienced its limitations. Fairly early on in my involvement with psychology I began practising body-based approaches of Tai Chi and Chi Kung as a counterpoint for myself to the conceptual nature of psychology. I was also interested in the importance of social context and cultural assumptions in our experience of distress, influenced by the work of David Smail amongst others.  
Despite a conceptual interest in Buddhism, I didn't establish a meditation practice until years later when a friend and colleague lent me a Pema Chodron book and I felt inspired to have a go. I started to practice with a local meditation group with roots in Tibetan Buddhism. This same friend attended a conference on meditation and mental health in the Netherlands, met John Teasdale and came back fired up with the idea of us offering a mindfulness course within mental health services. This was early on before there were established training routes for teaching mindfulness. The mindfulness courses were well received by both staff and clients and in time I trained to teach through Bangor University. 
My professional and personal exploration of mindfulness have continued in parallel. On a personal level, retreat experiences have been incredibly helpful in deepening my practice and changing my relationship to difficult experience. Compassion practices have also been important for me from early on and kept me going at a point when I may have felt too discouraged and given up in the midst of difficulties coming up in my practice.  
I am keen to make available approaches that I have found helpful and feel very fortunate to have the opportunity to work as retreat lead for the Mindfulness Network. I have also been delighted to encounter Mindfulness Based Compassionate Living, which connects up my long term interests in mindfulness and compassion, positive psychology and evolutionary understandings of our struggles.  
Outside of work, family life with my husband and two school aged daughters is centre stage with its activity, joys and challenges- mostly joys.  We love being in nature, walking by the sea or in the hills and sports also feature quite a bit, depending on what's in favour at any time- cycling, swimming, netball, football, tennis, running. We have fun and, of course as my daughter is now prompting me to add, it's not facebook or instagram perfect- there's the full catastrophe of all of it. 
---
---
I can be contacted via email at bridgette@mindfulness-network.org.