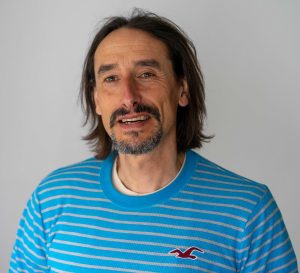 The past 15 years has been characterised as one of juggling the demands and pressures of being a lone parent living on a low rise estate in inner London. My 15-year old daughter Rahima and I live in a one bed flat with balcony and communal gardens. (Sadly, we are faced with 'redevelopment' which will break up our community – another story best kept for another occasion).   
Many decades ago I trained in youth and community work. In the early 1990s – and by chance – I found myself working in the addictions field and continued to work on and off in this field until the early 2000s.   
However for the past 5-10 years, my income has been largely as a cycle instructor in London Boroughs of Lambeth and Southwark, which is an insecure zero-hour income (and negotiating the working credit and benefits system) with all its stresses and strains. Let's just say it has been a huge challenge that I know may others face, too.  In particular the challenge of watering seeds of care/kindness/self-compassion. 
Yet, during this time I have endeavoured to use my time, energy, skills and experience to initiate and promote community-based mindfulness practice within my locality. I think I have been innovative and resourceful, including organising: a mindful walking on our local common;  a weekly PAYF men's mindfulness drop-in at a pub; mindfulness to children attending local state schools: and most recently teaching a "Nurturing Parents" course to parents whose children are in local state junior schools.  Much of this work has been either offered free or low-fee.
My cares are many.  However, one that has become more apparent and real as direct consequence of my time as lone parent, is how poverty and low income shames and diminishes so many in our community. Poverty acts as a barrier to participation and experience in wider society whether this be mindfulness or any other potentially 'resourcing' activity.
I believe with time, creativity and genuine commitment, we can create structures, systems and practice models that are much better suited to the lived experience and resources of lone parents and other disadvantaged sections of our community. This is a priority of mine and one I bring to my work. My hope is the Mindfulness Network becomes a pioneer and exemplar of such practice and facilitative structures. 
And my pastimes … I enjoy the company of good friends, sitting, walking and playing music on Tooting Common, following Crystal Palace football club (mainly via the radio), having a coffee and swimming outdoors.