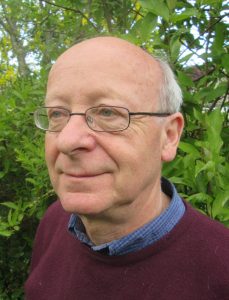 After a career in local radio and as a producer at Radio 4,  I became a solicitor in private practice, then  found myself more at home in the voluntary sector, where I worked from the early 1990s until my retirement.  I hope that the knowledge I learned through this will be helpful to the Mindfulness Network.
I joined the charitable arm of the lottery when it started giving in 1997. This led to working with others in a semi-official way on a project to set up and develop county networks of funding advisers/development workers in the South West region, which interlocked with a forum for regional charitable funders of which I was also a founder.
I also led the National Empowerment Partnership in the South West, a four year government funded initiative to help local authorities and community organisations develop the skills and resources needed to get more people involved in local decision-making.
Since retiring from full-time work in 2012 I have had more time for voluntary activity, with involvement in the successful social-enterprise buy-out of our local bookshop in 2013 in my Devon town, Crediton.  In our current home town in Wiltshire I'm a trustee of Corsham Sponsors Refugees, which prepared a home and welcomed a Syrian family of five from a camp in Jordan in Spring 2019.
Retirement has also given me the space to develop my long-term sitting practice, and take up teaching MBSR through CMRP.
Contact me at john@mindfulhereandnow.com.