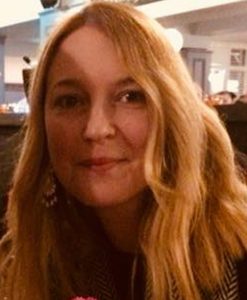 I grew up in South Manchester and as a child and teen I could usually be found doing lengths of the local swimming pool for many hours of each day before and after school. I was drawn to being in the water and becoming part of a squad with people of all ages and backgrounds gave me an extended sporting 'family', also the independence and opportunity to travel at a young age. Looking back, the hours spent in the water were akin to childhood mindful movement practice. 
Following graduation from Liverpool Uni and after a brief spell working as a photographic assistant, I was drawn to work within community roles. I was fortunate to spend several years working with organisations including Groundwork UK and the Princes' responsible business charity 'Business in the Community'. On projects involving environmental and corporate social responsibility and later with other charities involving art therapy and arts and cultural/social research. 
On deciding to start a family I fulfilled a long term wish to train as a holistic and remedial therapist and although going back to college was, (in retrospect) a stretch while pregnant and working full time, it was with the eventual aim of achieving a work life balance.  
I first encountered mindfulness around 8 years ago, following a very challenging time in my family's health, when I found myself dealing with caregiver anxiety and burnout. I was searching for something both to support our wellbeing and to connect with others. Enter mindfulness! 
On the advice of my physiotherapist I registered for an 8-week mindfulness for health course at the local Buddhist Centre. What started as curiosity, (and a whole load of fidgeting and difficulty sitting still during the guided mindfulness practices) soon became a daily practice that brought me to undertake teacher training. This practice continues to transform all areas of my life many years later, in relationship to others and for the compassion I can bring to myself.  
As well as being inspired by the mindfulness community, I am passionate about facilitating peer support for carers, awareness raising and supporting mental health in relation to disability, pain management and chronic conditions. I am involved in writing children's books for a medical research charity, which are distributed to NHS hospitals and schools nationwide.  
I joined the MN as Training coordinator in 2018 and am honoured to be working with this dynamic and heartfelt charity, the Mindfulness Network. Being a 'virtual' team, it is always a joy to connect both online and in person with our inspiring team who are based elsewhere in the UK.  
When I'm not working, I'm spending treasured time with my family and dogs. I enjoy life drawing, reading, blogging and walking. Recently, I relocated a little further up North to the side of a lovely valley in Calderdale, West Yorkshire, (but I continue to be Mancunian at heart!) 
---
I can be contacted via email at emma@mindfulness-network.org.