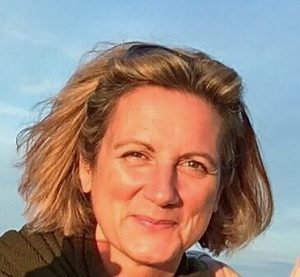 I grew up in North West London, my dad a London cabbie and my mum delivering records to pubs for the juke boxes. My sister, brother and I got to play any vinyl we wanted from the Top 40 each week which was great! The music theme continued when I chose my university as it was the hometown of my favourite band of the time (Hull, The Housemartins!) This was coupled with an intrigue, sparked by my Politics A Level teacher, about the North/South divide. My degree was European Studies with French and it was also here that I read Herman Hesse's 'Siddhartha' which opened my eyes to the journey of self-discovery. 
After university I got a job as a recruitment consultant and within a year I'd doubled my salary and was being offered a promotion. I realised money wasn't a motivating enough factor for me. I resigned, did my Teaching English certificate and took a significant pay cut to teach English in Krakow, Poland instead. This led to teaching in Portugal, Thailand and Australia, at which point the appeal of the ocean became greater than the classroom; I completed my Divemaster training and started working on liveaboard dive boats. I feel privileged to have experienced the Barrier Reef and Coral Sea before the devastating effects of climate change really took hold. 
I returned to the UK via India and Nepal. One of my greatest challenges was trekking in the Himalayas whilst pregnant; I've suggested that next time she carries me! Back home, I worked for two London boroughs in finance/administrative roles before the sea beckoned once again, this time the Sussex coast. At this point, with two young daughters, I decided to complete my teacher training and subsequently taught in schools in Sussex for twelve years. 
It was during this time that my interest in mindfulness really developed. I had a sense of increasing difficulties being faced, not just by my colleagues, but also by children, some as young as four, and their parents and guardians. I trained to teach the Mindfulness in Schools Project's three curricula and went on to deliver mindfulness to children and adolescents in primary and secondary schools, to school staff, parents, adoptive parents and special guardians. 
I also undertook teacher training with Bangor University's Centre for Mindfulness Research and Practice, where I had the immense privilege of having Cindy Cooper as my teacher. An incredible role model, her courage in meeting life's challenges with equanimity inspired and strengthened my commitment to my own practice. Mindfulness and Compassion subsequently held me through turbulent times and supported me in experiencing both the joys and challenges of being a single parent. It was Cindy who told me about the work of the Mindfulness Network, then in its infancy. Little did I know I would someday be fortunate enough to work with them! 
---
I can be contacted via email at jos@mindfulness-network.org.