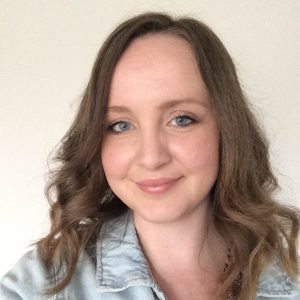 I grew up in the North Manchester town of Bury, famous for its (now defunct) football team and for black pudding. As an only child, I was raised by a single mum who held down various jobs at a bingo hall and a book shop – where I later joined as a Saturday girl from the age of 16. This suited me well since I was a voracious reader, keen to escape into the fantasy worlds of Tolkien, Rowling and Pullman. 
Despite being a straight-A student through primary, secondary and college… university had never even crossed my mind. It was too expensive. Too daunting. Many of my friends were heading straight into the world of work. I was gently encouraged by an inspirational teacher to apply and found myself nervously starting an English Literature degree at Lancaster University, discovering that my mum had been saving and saving to pay my tuition fees because she didn't want me to have a huge debt. 
Lancaster University had a huge influence on me – it was there I met my future husband and befriended people from all kinds of different backgrounds and walks of life. I volunteered for a student support service called Nightline which instilled some early skills around compassion, empathy and non-judgment.  
After a post-grad year teaching in English in Hong Kong, I was faced with trying to find a job in the aftermath of the 2008 financial crash, which was a scary time for new graduates. I applied frantically for work experience and unpaid internships, finally landing a junior work placement at the BBC Manchester press offices where my career in communications began. 
I started working in PR around the BBC's high-profile move out of London to MediaCityUK, Salford – a major coup for the North of England and an employment dream come true for me. My career at the BBC flourished over seven years with various digital communication and editorial roles across BBC Learning and BBC Children's departments – I once even got to work from the gallery for a live episode of Blue Peter! Social media became my specialism and I produced high profile campaigns with a quick stint working on Saturday morning live children's TV. The most famous person in my phone is Hacker T Dog (a puppet from Wigan)… 
Meanwhile, my husband was studying for his Clinical Psychology Doctorate and the hot topic of conversation for those three years was his chosen thesis topic – mindfulness. Specifically, mindfulness in the workplace to support staff well-being. I learned vicariously about 8-week groups, mindfulness in an IAPT setting and began to experiment with my own personal practice, including a silent retreat at Gaia House. 
When my son came along I gave up my career to become a full-time mum, which brought its own set of joys and challenges. There is a famous saying, 'Children are natural Zen masters; their world is brand new in each and every moment' which I've found to be wonderfully true (but forgets to mention the sleep deprivation part). 
I joined The Mindfulness Network in 2019 which felt like the perfect fit for me to use my skills in communication and marketing, combined with a deep respect for the mindfulness community. Part-time, flexible working from home suits my family life well and my husband also works as a mindfulness teacher and supervisor.  
---
I can be contacted via email at joelle@mindfulness-network.org.