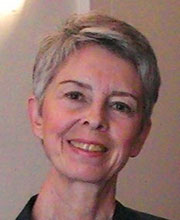 Cindy Cooper, our co-supervision lead, passed away in 2017.  She had a particular passion and vision for mindfulness-based supervision, and we are delighted that this bursary fund is now held in her name to honour her contribution to the mindfulness-based community in a special and lasting way.
Cindy made an enormous contribution to the lives of so many people. Mindfulness-based Supervision (MBS) was dear to her heart. She dedicated much of her later working life to its growth and development, which included: finding words to articulate its nature leading to the development of a model for MBS; training new mindfulness-based supervisors; developing good practice guidelines; and of course supervising numerous mindfulness-based teachers.
Cindy was a core member of the Mindfulness Network staff and was our co-supervision lead. She helped shape our supervision vision, make decisions about future directions, build our network of mindfulness-based supervisors and support their growth. Cindy always kept very high standards, working with deep integrity as well as an enormous generosity and warmth. All of this work for the Mindfulness Network was given freely.
All of us at the Mindfulness Network are deeply grateful for Cindy's passionate guidance and look forward to being able to continue to develop and guide high-quality MBS to the field. She is very much missed.
Watch Cindy Cooper's honest and moving interview with the BBC about her experiences of being diagnosed with a terminal illness.
---
The Cindy Cooper Bursary for Supervision
This bursary fund aspires to make mindfulness-based supervision accessible to mindfulness-based teachers. (For support with Supervision Training, please apply via the Teacher Training Bursary application form.)
Recognising how vital mindfulness supervision is for quality mindfulness teaching, we have developed a bursary fund made up of donations from people interested in supporting the accessibility and availability of mindfulness-based supervision. 
A bursary application should show how it aligns with the Mindfulness Network vision and specifically how this bursary will benefit the wider community, especially underrepresented communities, or as part of a charity or social enterprise.  
In monthly meetings, a panel will carefully review each bursary application based on the information provided, considering both the level of support requested and the funds available. Priority will be given to those teaching in communities with wide reaching impact. 
Please check that you meet the following criteria, and it is recommended to include information about all of these criteria on the application form: 
You can apply for up to 75% towards the cost of a series of supervision sessions (3-6 hours) with a Mindfulness Network registered supervisor, depending on your circumstances and the funds available. A bursary place is not a free place. We ask you to also think carefully about the value you place on supervision in the light of your own finances and to contribute as much as you can toward the supervision. This allows us to keep the fund open for others and ensure that the money is used to best effect.
It is important that you complete your application at least three months before the date you wish to begin mindfulness-based supervision. We recommend waiting for your bursary decision before you apply for supervision with one of the Mindfulness Network supervisors. Bursaries will not be granted for supervision that has already taken place. 
---
Ready to Apply?
To apply for a bursary place, please download and complete the application form, and then email it back to us at info@mindfulness-network.org.
If your application is successful, you will then be able to apply for bursary-assisted supervision with one of our registered supervisors.
DOWNLOAD: Application for a Supervision Bursary