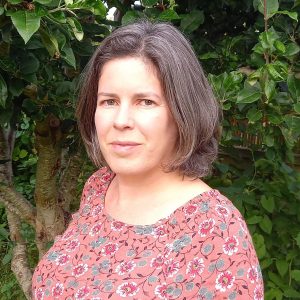 My childhood was spent in a very remote and beautiful area of the Scottish Highlands, surrounded by mountains, lochs, silver birch and pine trees and such terrible TV reception that for much of my younger years we didn't have one. Much time was spent outdoors building dens and riding bikes or indoors lost in a book. There was a lot of freedom, space and silence.
Making decisions about where to go to university was easy, I'd loved visiting Edinburgh as a child and teenager – it had everything the rural highlands didn't! After a false start studying biology I ended up with a social anthropology degree, but changing subjects had a bigger impact in other ways as, due to course numbers, I had to take a year out. That summer I was already going to India with a university group so I changed my return flight date and set off with the Lonely Planet guide.
It was in India that my interest in yoga, which had begun in my teens, developed and I first experienced meditation. I loved practicing yoga, the focus it gave me, tuning into subtle body sensations, connecting with the breath and calming the mental chatter. Meditation, either as part of yoga practice or a standalone practice, was similarly engaging – there was so much to explore. Back in Edinburgh I continued practising both yoga and meditation, at home, in classes and on retreats, I even met my future husband on a retreat!
In the following years we became parents, moved to the other end of the country and after graduating I worked for an animal welfare charity 'Compassion in World Farming' as a Political Officer until we moved to Devon. I continued practicing yoga during these years and found any time spent on a yoga mat very beneficial in sustaining and nourishing me through hectic family life. With my younger child settled into school life, I took the plunge into a two year yoga teacher training course. The course was equally challenging and rewarding, and rekindled an appreciation of the benefits of meditation. It was at this time that I read the Finding Peace book and worked my way through its eight-week course. I was inspired by and benefitted from the accessibility of the mindfulness-based approach, weaving mindful moments throughout daily life.
I aspire to include aspects of mindfulness practice in the weekly yoga class that I have taught for over ten years, mainly in the village where I live. Alongside my yoga teaching, I worked in a variety of finance and administration roles in both charities and commercial organisations. During this time my husband, who had handed me his copy of the Finding Peace book several years previously, had started training to be a mindfulness teacher with Bangor University and later the Mindfulness Network. As he progressed along the Teacher Training Pathway to Trained Teacher, I was witness to the deepening benefits of a regular mindfulness practice.
Completing an eight-week course mid-pandemic presented an opportunity to re-engage with my own mindfulness practice and led to me applying for the role of Operational Coordinator at the Mindfulness Network. It feels a privilege to be able to work for an organisation whose vision and values are aligned with my own and within a team who are so supportive.