Our Approach to Offering Mindfulness-Based Supervision
One of the original reasons that the Mindfulness Network (MN) began was to offer mindfulness-based supervision (MBS). This was back in 2012 when the charity began as a small community interest company. Alison has been the Supervision Lead at the MN since its inception. We began with a small group of supervisors working with the training programme at Exeter University. Soon a strong collaboration formed with Bangor University, so we became a team of supervisors from both centres. We now have a partnership with the Oxford Mindfulness Centre (OMC) around supervision for their trainees. 
Since those early days we have had several open recruitments for new supervisors, when we see gaps in our MBS provision e.g., needing more available supervisors in a particular category, supervisors offering supervision in different languages. We have a rigorous recruitment process, which includes application, shortlisting and interviews. Potential new supervisors are asked to demonstrate how they meet our good practice guidelines for supervisors. We advertise through our newsletters, website and social media when we are recruiting.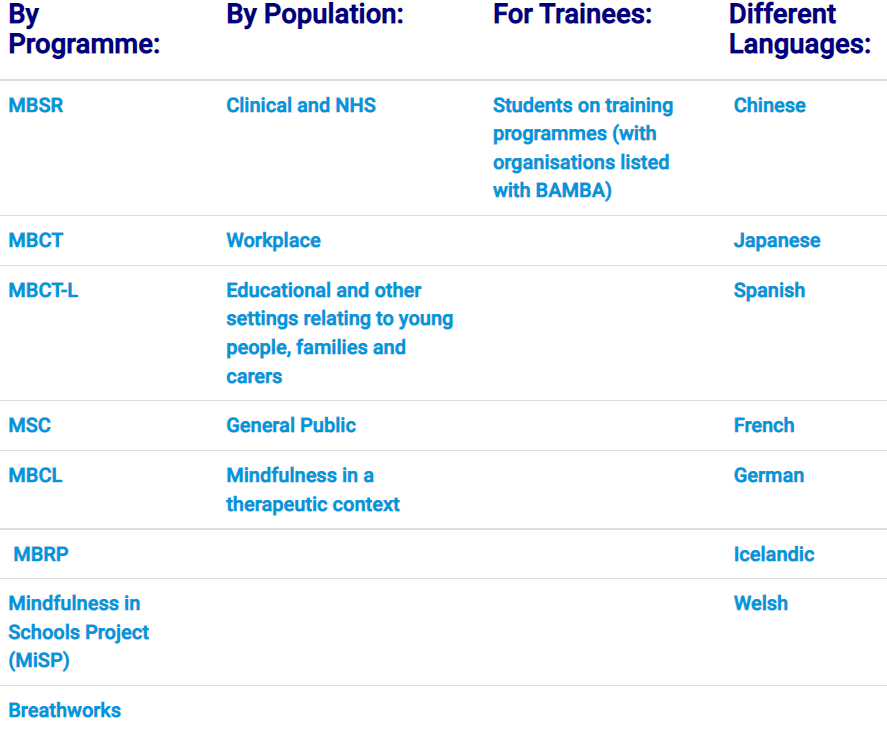 The MN has supervisors across a wide range of programmes and different populations/groups of people. We organise our website in a way that allows you to choose a supervisor across this range of programmes and population. The MN supervisors come together with the shared vision for the advancement and integrity of mindfulness-based teaching and supervision. Through the MN, we are connected to mindfulness teachers in all places, with different nationalities, and learn and grow together through supervision and ongoing training and development. 
MN supervisors adopt an inquiry approach in supervision, using a mindfulness-based framework, focusing on experiential and reflective learning rather than directive teaching. We hold a `not-knowing' rather than `all-knowing' mindset and to explore, learn and grow together with the supervisees through the supervision process. 
MN supervisors have a community which encourages discussion, regular meetings and taking part in ongoing training together. We value the different areas of expertise, knowledge and experience within the team. As one supervisor put it: "it's like being part of a good family who has your back but also does not shy away from raising the trickier aspects of this work".  Supervisors are kept up to date with the specifics on the Bangor/MN Teacher Training Pathway and OMC training programmes. Being part of a team with MBS at its core helps supervisors to keep refreshed, inspired and maintain MBS as an important part of their work. 
MN supervisors adhere to and are committed to MN policies e.g., the equality, diversity and inclusion working policy, safeguarding. They have processes that help to hold the safety and standards for supervision e.g., safeguarding and complaints. As one supervisor put it: "Through clear guidelines and up to date policies we have a safe framework within which to operate but this is built on qualities of support, warmth and non-judgement."  
Teresa is the Supervision Coordinator, ensuring that potential supervisees are linked with their chosen supervisor/s as soon as possible and answering any queries people may have.  She supports both supervisees and supervisors. She also coordinates the Supervision Level 1 and 2 training courses.  As a mindfulness trainer herself, she knows first-hand the value of supervision and is keen to support others on this journey.  Please feel free to contact her on supervision@mindfulness-network.org. It's been wonderful to receive feedback from you, such as "Thank you for your care" and please know, we really do care!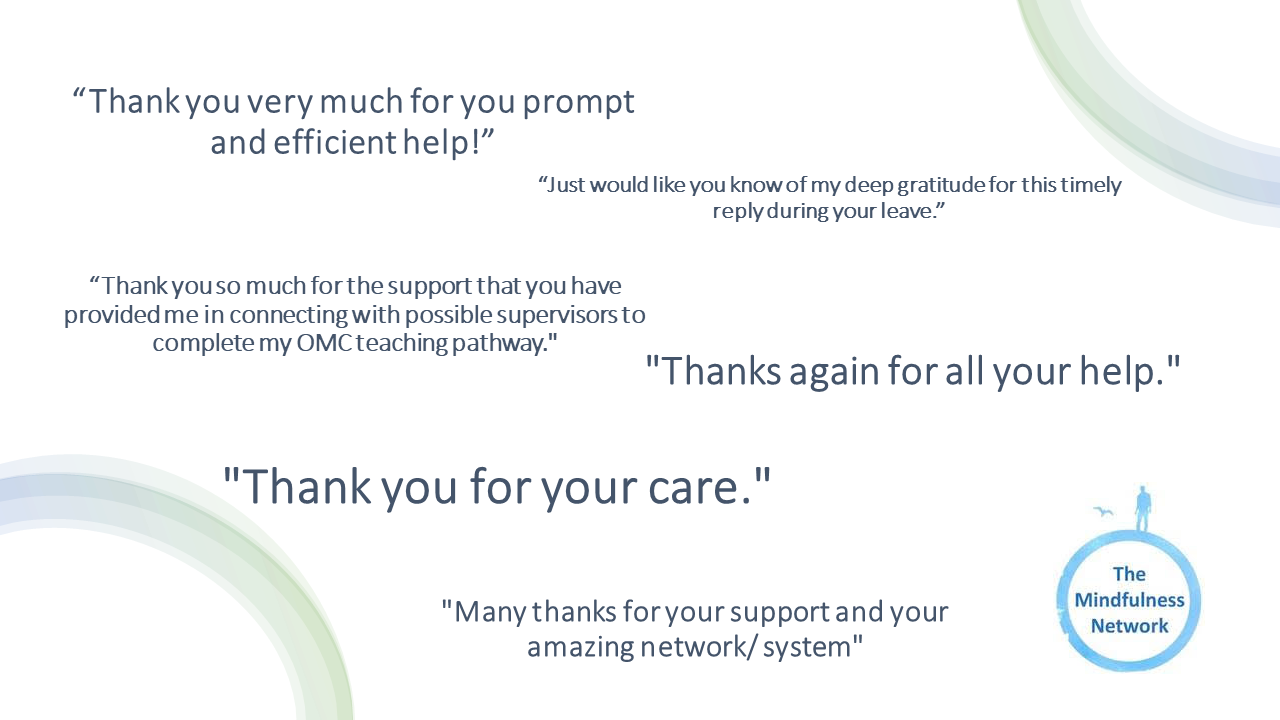 We set up the Cindy Cooper supervision bursary in memory of our dear colleague Cindy, who was passionate about the importance of MBS. She started the bursary scheme to assist mindfulness-based teachers to access MBS as a support to increasing diversity in the provision of mindfulness. We continue to offer these short-term bursaries for MBS with MN supervisors. To find out more about bursaries visit home.mindfulness-network.org/bursaries.
To find out more about the MN supervisors and choose a supervisor, please visit supervision.mindfulness-network.org.
---
~ written by the Mindfulness Network Supervision Team ~