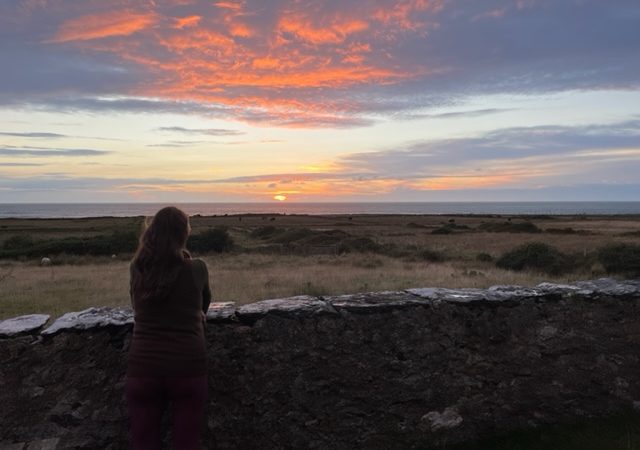 ~ written by Zoe Shobbrook-Fisher, Supervisor and Compassion Trainer at the Mindfulness Network ~
This blog post was originally shared on gomindfully.org and kindly republished here with Zoe's permission and additional images.
"MEDITATION IS NOT EVASION. IT IS A SERENE ENCOUNTER WITH REALITY"

– THICH NHAT HANH
'But what do you have to retreat from?!' So asked one of my retreat companion's mother, before she set off like me to join 14 other mindfulness teachers on remote Bardsey Island, north Wales for 7 days of meditation, yoga, silence and connection. Perhaps the question was prompted by the extremes of the journey to be undertaken, in some small way following in the footsteps of centuries of pilgrims who set out to this holy island – most of us took at least a day to get there, by plane or ferry, buses, trains and finally a boat (carrying all our provisions) at dawn on our first day. It was a real adventure.  And yes a pilgrimage, a sacred journey, seeking some kind of communion with that which is beyond our everyday routine. Seeking wildness, simple living, space, peace. This was no retreat spa holiday style although we did have natural Jacuzzis cradled in amongst the rocks!
When we go on retreat it's true we are retreating from – from the digital world, from work (in one sense of the word) from our day to day responsibilities in our families, communities, organisations. On the other hand we are also very much retreating to, moving closer to life rather than further away. No longer caught in the demands and distractions of our daily lives on retreat we meet the rawness of life stripped bare, dancing around and within us. It is invariably abundant with blessings, often challenging, and always transformational in both subtle and dramatic ways.
Life on Bardsey – inhabitants 11, 1.5 miles long and only ½ a mile across, a National Nature Reserve and a Site of Special Scientific Interest with it's own observatory monitoring the migration routes of thousands of birds including the extraordinary Manks Shearwater that make the journey from Chile and back every year – is elemental, to say the least. At times the wind and the fierce sea currents make sailing between the island and the mainland impossible. As happened soon after our arrival sometimes boats are unable to reach or leave Bardsey Island for many days; seventeen visitors were stranded for two weeks in 2000 when gales prevented a boat from going to rescue them. I'm glad I didn't read this Wikipedia entry till I got back!
The weather changed suddenly and often, from blazing sunshine to torrential downpours. I quickly realised I needed my waterproof rucksack packed with equally protective clothes with me at all times! One moment the calm green emerald sea and it's seal inhabitants seduced even those of us who were tentative wild swimmers in for some delicious chilly swims, the next it transformed into huge swells and intimidating waves smashing on jagged rocks and left us stranded with no boat crossing for 4 days!
The welsh name for Bardsey is Ynys Enlli "The Island in the Currents" – a fitting metaphor for the practice of meditation. Being well and truly cut off, with no news or phone signal, it offered optimum conditions for the inner work we were all there to do. Growing a soft awake presence in the midst of very human currents, the patterns of our minds and hearts, perpetually pulled this way and that.  The rhythm of each day was built around the continuous and gentle practice of mindfulness, a deep empathic attending that slowly releases the mind-heart from well-worn habits and reveals the freedom and joy that is our true nature.
When we slow down, growing a quality of quiet and stillness even in our movement, whether sitting, practising yoga or Qigong, walking, bucket showering, chopping vegetables, sea swimming, pausing at the breath taking light of dawn or sunset – a clarity gradually emerges. With the clear seeing of mindfulness we wake up to our familiar mental and emotional fog.  We remember again that we have a choice to be carried away by the undertow of wanting, rejecting, ignoring or worrying or to float on the seas of tranquillity, steadiness, curiosity and joy. This is our super power, this choice. Retreat offers us the intensive space to find out how. Wherever we are blessed enough to retreat, for an afternoon, a day or a week we can free our minds and open our hearts a little more. We can be an island of wisdom and love in the currents of our lives.
---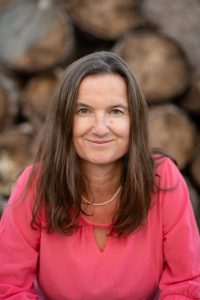 Zoe is a mindfulness and self-compassion teacher, counsellor and mindfulness teaching supervisor based in southwest London and Surrey. After setting up Go Mindfully with Jaya Rudgard in 2010, Zoe offers public Mindfulness-based Stress Reduction (MBSR) and Mindful Self-Compassion (MSC).
Watch Zoe talk about Fierce Self-Compassion from a previous online event offered in collaboration with the Mindfulness Network Community Friends.
Book Retreats and Compassion events via our CALENDAR.