~ written by Alison Evans, Executive Director ~
This blog post is the first in a series called 'Mindfulness Online' to help give you some insight into an online event with the Mindfulness Network. But don't just take our word for it – we asked to hear from you and will share some of the feedback we've received over the last few months. In future posts you will also hear from trainees and event leaders as we embrace the move online.
"An inquiry workshop using zoom? 22 participants?? Can't be done??? The Mindfulness Network can do it – wonderful!!!"

~Feedback from a participant on a recent online inquiry workshop
Roll back to March 2020 – a shocking time for all of us when our life 'as usual' got turned upside down. In the Mindfulness Network, we had been having preliminary conversations about creating more online learning environments for some time but hovered and hesitated around the "can't be done". By the end of March, we could see it had to be done, and reminded ourselves that we have been a virtual organisation for many years and our team of supervisors have worked remotely since 2012. By the end of our first online training event the first week in April we could see "the Mindfulness Network can do it".
Without a doubt this has been as steep learning curve and we continue to develop and refine our online training and retreats. But now, six months on, we find based on our experience as trainers, retreat leads, supervisors and staff that online is not only a viable option but has some benefits over and above in-person. It continues to be the safest way for us to continue in our endeavours to bring mindfulness-based practices into the world with integrity and care.
We have now facilitated ten online trainings, two online retreats and two online compassion-based events. Our surprise at how effective online events are is mirrored by the feedback we are receiving. Who would have thought that an intensive online training could receive the comment "wonderful?" !!!! We are looking ahead to resuming face-to-face events next year, but also plan for online to be a continuous part of what we offer, not just as a response to the COVID crisis or a second-best option.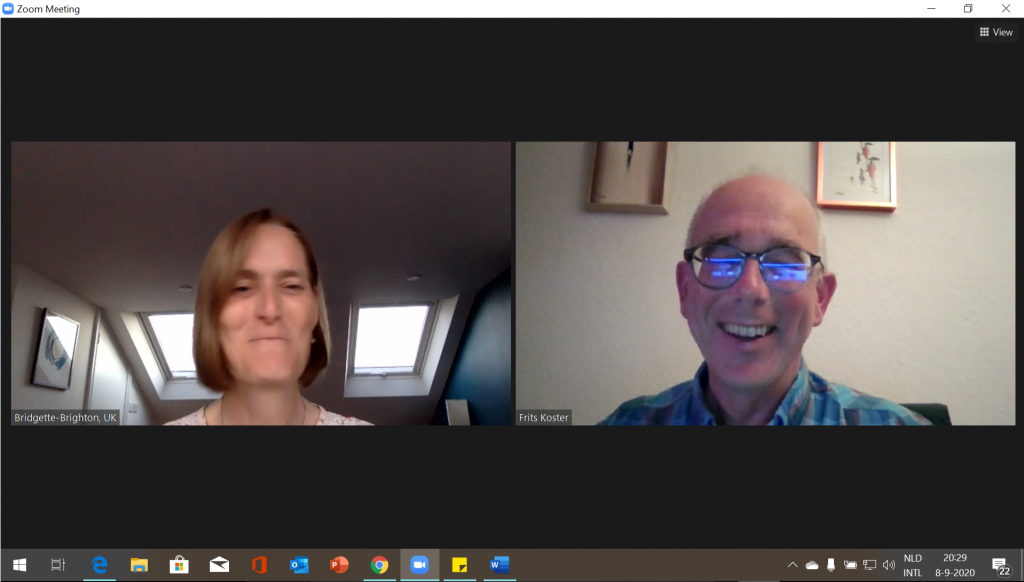 ---
What can you expect from an online event with the Mindfulness Network?
1. You can expect to be taught by our same teams of specialist trainers, who are all part of the Centre for Mindfulness Research and Practice (CMRP) at Bangor University or our experienced retreat leads/compassion teachers/supervisors.
"Fantastic! Really high-quality input from experienced practitioners. Good balance of content, skilfully done in this new online environment."
2. We are keeping numbers small on events so you can continue to feel a sense of connection and intimacy.
"Powerful peer experience, practical and profound input."
3. People are enjoying meeting others from around the world, which has become easier without the need for travel.
"Attending sessions with The Mindfulness Network is a joy. This because of the organisation, content, the teachers; and most of all because of the people on courses. I have met so many some wonderful, soulful individuals and I'm very grateful for that."
4. We aim to balance the learning of skills alongside and reflective spaces and opportunity for dialogue.
"I was pleasantly surprised by the breadth and depth of the coverage of this two-day course. We covered a great deal of material in a relative short space of time, and yet it felt spacious.  Loved connecting to people all over the world.  I think this added another dimension to understanding cultural differences.  I came away inspired to reflect on my own teaching and its impact."
5. We will bring as much ease as we can; setting up supportive conditions that allow you to move the body and maintain energy and enthusiasm. A large part of our inquiry as a team has been how to continue to teach in an embodied way and to assist you in engaging in this way.
"Exceptional teaching made for effortless learning. Could have happily stayed and learned for many days more."
6. We acknowledge it is not the case for all, but for some, online offers an increased accessibility. Increasing inclusion and diversity is at the heart of our vision.
"I have learned to be more attentive to people with disabilities or difficulties of some kind, even small. I have learned to offer many options to people to make them feel comfortable and safe."
"I think this online workshop [is] really do-able, I can learn […] directly from original developers or well-trained teachers."
7. We are listening closely to your feedback and learning from you.
"A truly excellent course with really inspiring trainers!"
"If you want a supportive learning experience, this is for you. Safe and enabling."
We hold this work dear in our hearts and hope to inspire you too, whether we meet you in person, online, or over the phone, through training, supervision, retreat of any of our other offerings. We look forward to meeting and connecting with you.
To see a full list of all events, visit our CALENDAR.